THE BLAZER FOR TRAVELING BY ARTLING
Since 2010, we have found at 21 rue du Dragon in the 6th arrondissement a boutique called Artling which is in the image of its creator: classic but full of surprises! Trained at the National Federation of Master Tailors of France, Martial Arnaud offers made-to-measure shirts and suits. Here we find beautiful English and Italian fabrics and a choice of linings from the wisest to the most eccentric. In a very British decor , it also offers a nice selection of accessories. These include a few underwear, beautiful belts and suspenders that are rarely seen elsewhere. For a few months now, Artling has also offered a jacket specially designed and designed for globetrotters. which looks very much like what one might consider the perfect jacket for traveling. Here is our test!
Presentation
What a travel jacket suffers the most from is being worn, removed, folded, re-worn, sitting and then standing, to end up looking very wrinkled. To avoid this inconvenience, Martial Arnaud has selected a fresco fabric from the famous English house J&J Minnins. This is called a cold wool which allows better air circulation in the material. The "twist" which is given to the wool fibers during weaving makes it possible to obtain a fabric with a high "twist" (tension) which means that it does not crease or very little. It is a relatively thick fabric (280 grams) with a dry touch due to the high tension of the threads. He also imagined a practical jacket with multiple pockets for traveling.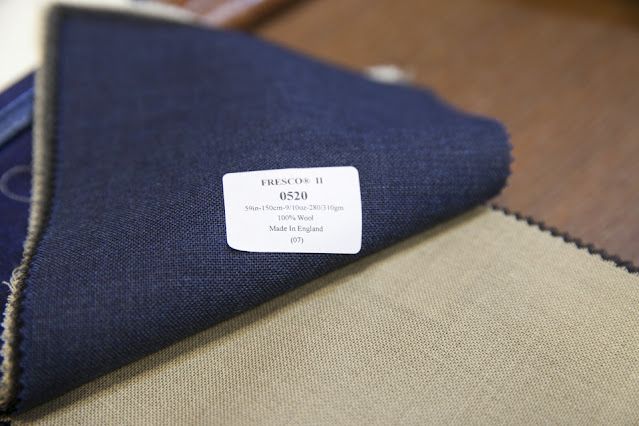 Production
The fresco fabric is available in around forty colors, but I stayed with the color in which Artling made his presentation jacket. A blue easy to match with a beautiful light for sunny days. This same jacket could also be made in fabrics that have similar characteristics such as crispaire or mohair. The customization choices then concern:
Lining
The color of the braid inside
The shape of the outer pockets
The width of the collar
The choice of buttons
The number of buttons
The embroidery of the initials
Taking measurements
To facilitate the measurement, I was offered to put on a fitting jacket. This stage lasts 10/15 minutes. You can see below some illustrated measurements. At the level of the bust, we estimated what would be the ideal height for me to place the first button. In the back, the distance between the back of the neck and the hollow of the back. The size that will allow you to see that I keep the shape 😉 As well as the width of the sleeves at the wrist.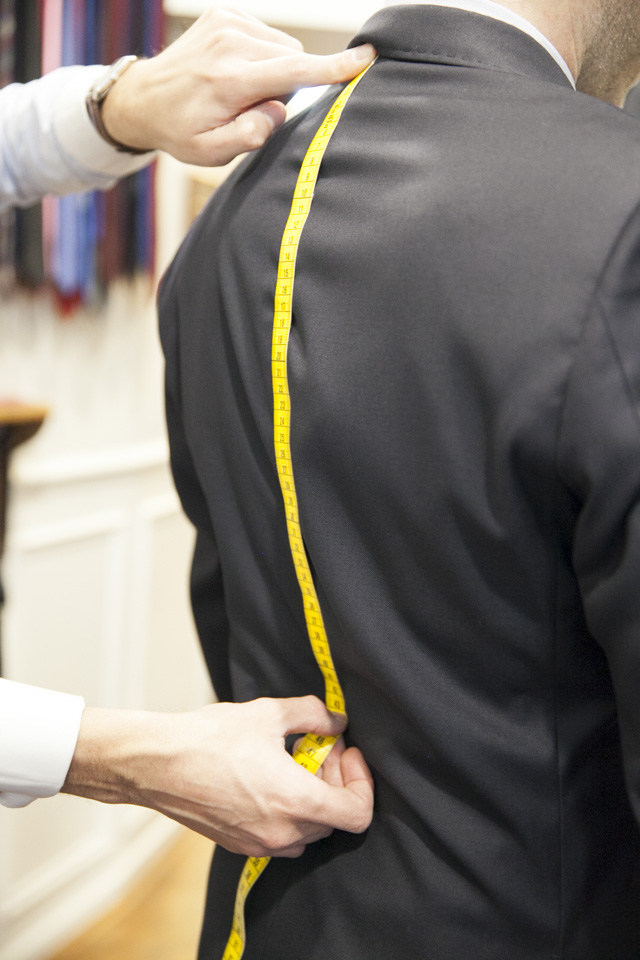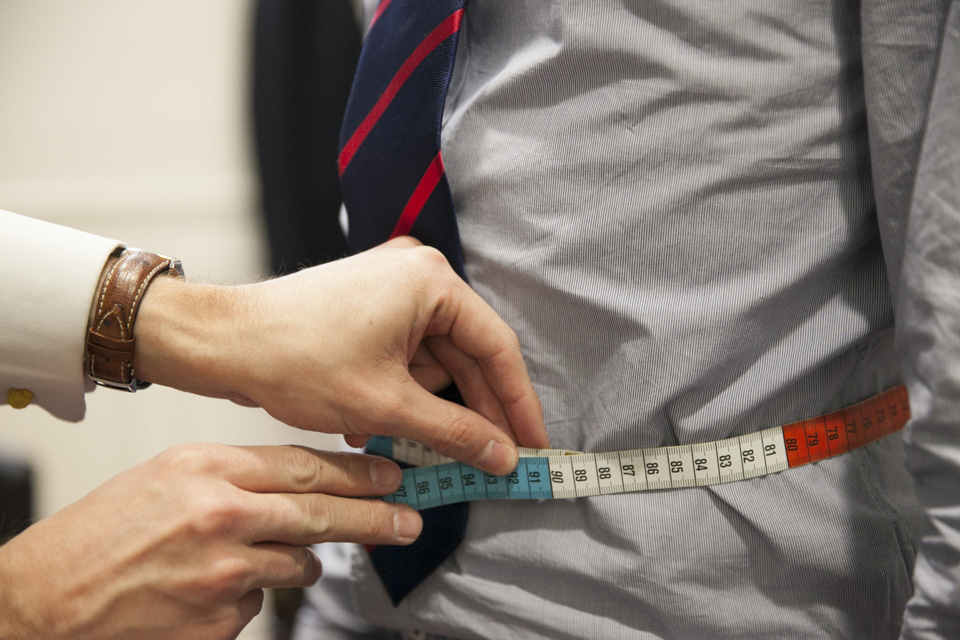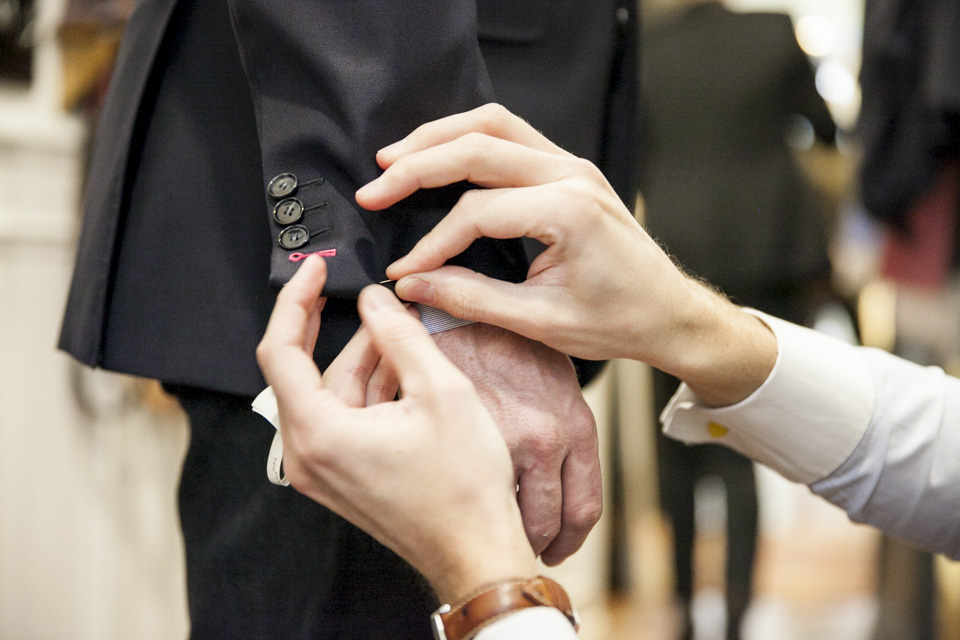 All the measures are summarized on a sheet. You can see that we measured the difference in height between my left shoulder and my right shoulder in particular because like many of you (but you may not know it yet) my shoulder line is not at the same level. Also note that it was agreed to carry Neapolitan shoulders on this blazer. This construction, without shoulder pads, hugs the natural lines of the body. Which is ideal when you have an athletic build. On the other hand, we find in ready-to-wear jackets whose shoulders are systematically padded which can give a too square appearance.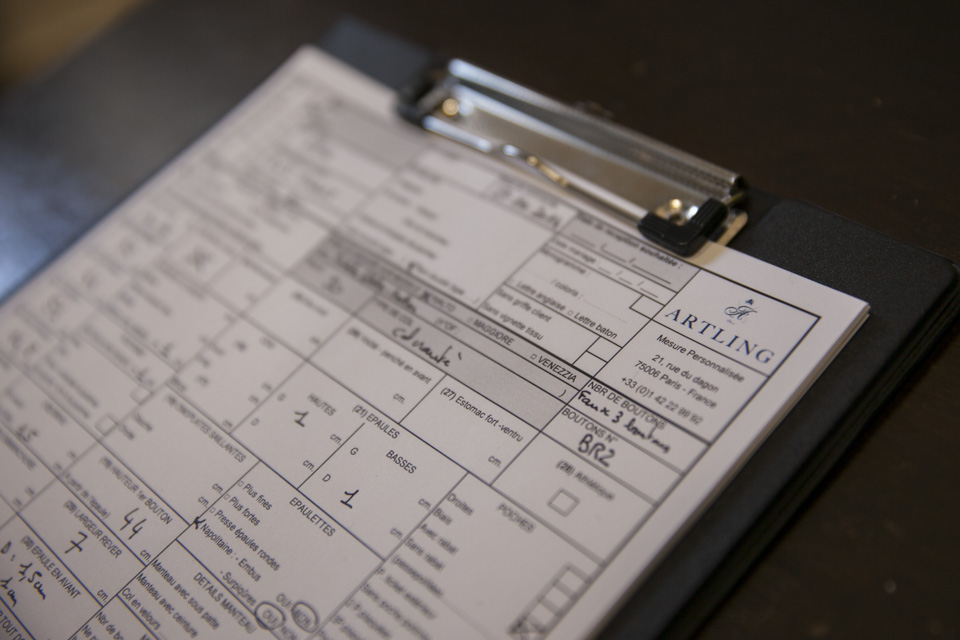 First fitting
The first fitting is the opportunity to discover the completed work and to see if the measurement was correct. If so, there are only a few adjustments to be made. As I told you earlier, I have one shoulder higher than the other. But also a relatively strong neck. Two characteristics that usually cause folds to form on the back of a jacket. Martial therefore made sure to mitigate them as best as possible by taking a few measures. This was the only point of discussion. A week later my jacket was waiting for me for my first trip!
Test
So here I am on my way to a first Paris / Lorient with my new blazer. Nothing like it to start testing its wrinkle resistance. The jacket will make the trip folded in half. Almost 3 hours later, I can see with pleasure when putting it on that it hasn't taken a fold! When I got home, a bit like a child who had received a new toy, I tested its potential in terms of storage. A passport, a credit card, a pair of glasses, a perfume …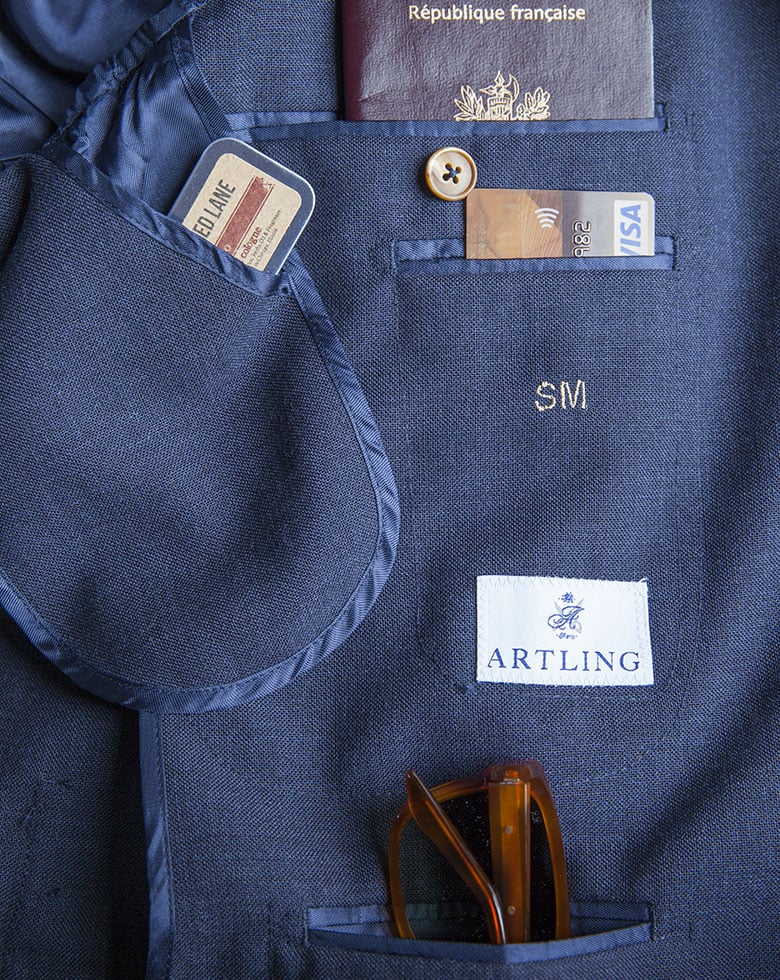 My favorite pocket: the one under the arm that allows you to keep your mobile phone safe. The multiple storage spaces also allow you to consider taking with you papers, one or two cigar (s), a little change, a few hidden notes, etc. This jacket has a total of 13 pockets including 3 secret pockets! Call me "Joe 007"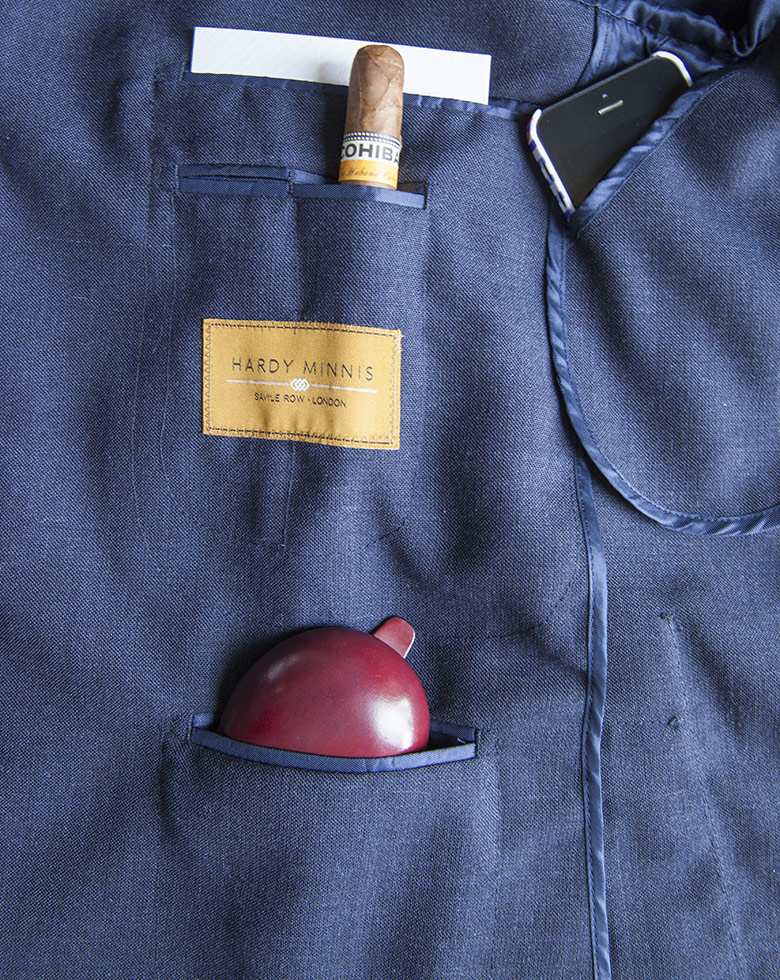 As you can see from these latest photos, the jacket is unlined. This makes it all the more light and even more comfortable to wear in hot weather. All the interior seams have been trimmed with a blue satin fabric. All the finishes are extremely neat, there is nothing to complain about!
Budget
It takes € 690 for a simplified version without all the security pockets. In this configuration, with also patch pockets, the budget is 750 €.
Balance sheet
You can see the result in this " In the colors of summer " look made last September. If the investment represented by such a blazer is important, its quality, its finish and the use that can be made of it justifies it. The almost crease-resistant fabric is very appreciable when traveling as in everyday life. The blazer can be placed on a chair back or folded in half and remains presentable in all circumstances. Its style goes as well with a classic outfit as in a chic sport look and its lightness means that it can be worn from spring until early fall. A nice gift to give yourself on sunny days! Mention tested & approved.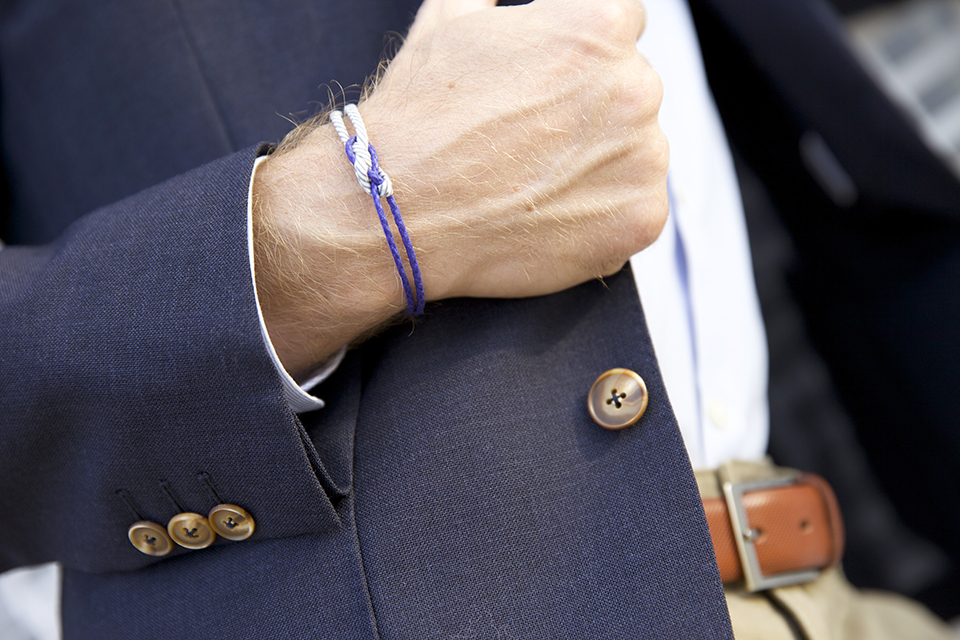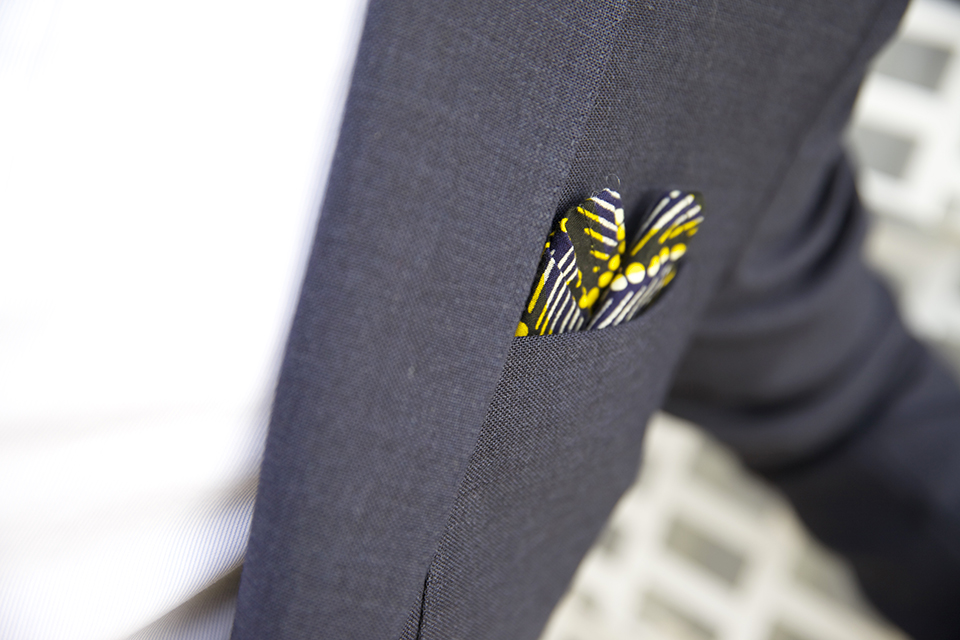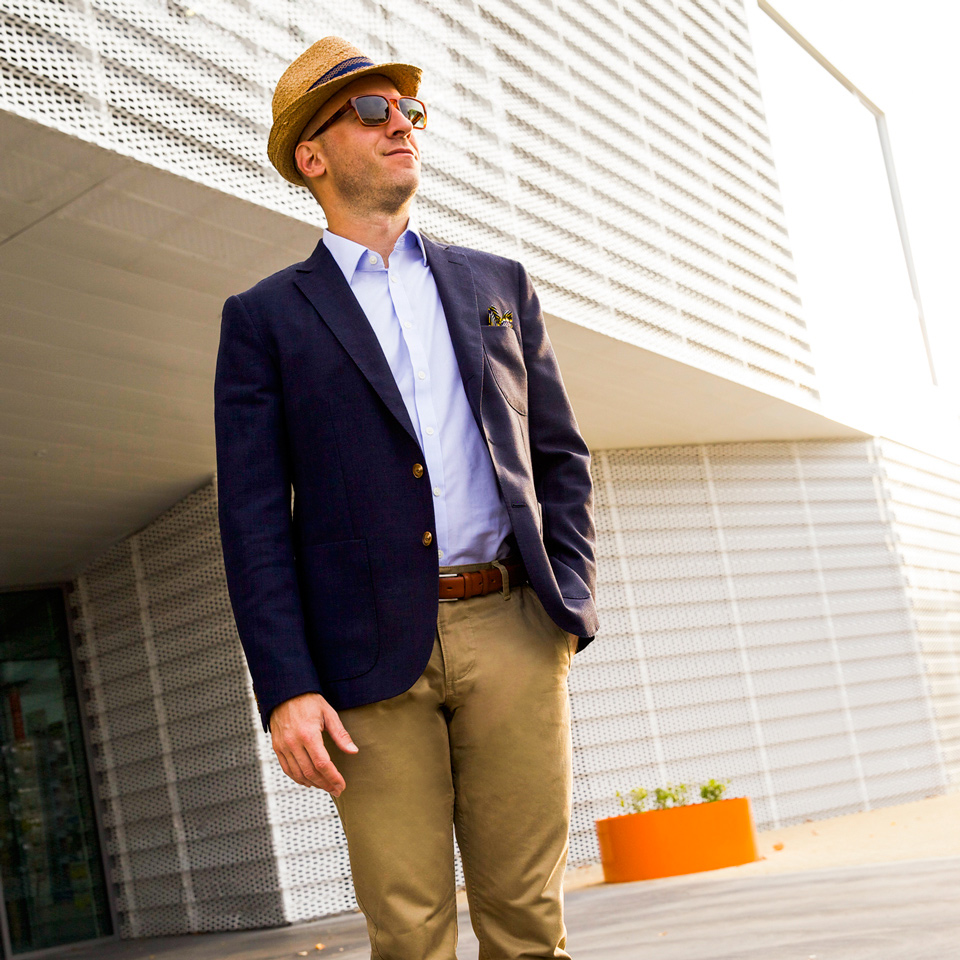 Artling: 21, rue du Dragon 75006 Paris and from June 15 at 55, rue des Saint Pères 75006 Paris because the store is moving to a new 110m2 space.
Download our 2020 Groom's Guide to find all our tips , advice and good addresses (this guide is also intended for witnesses and guests):