HOW TO CHOOSE A DOUBLE BREASTED BLAZER?
Popular from the 30s to 50s, then in the 80s to 90s, the double-breasted jacket has since been forgotten. Too outdated? too loaded ? Fashion phenomena are things that sometimes cannot be explained, the only thing certain is that they work in cycles and come and go incessantly. It is therefore not surprising to see the double-breasted jackets brought up to date over the past two years. It's part of that preppy wave which has been sweeping in recent years. So brands and designers are having fun and today offer this type of cuts in many variations, in suits as well as blazers. Because the crossed buttoning does not suit all silhouettes and all styles, here is a file addressing the main points to wear it at best.
Double breasted, quésaco?
In the language of clothing, the term double-breasted refers to a coat or jacket with wide lapels and two parallel columns of buttons; unlike single-breasted, which has a narrower lapel and a single column of buttons. For most of today's crossover jackets, one of the two button columns is only decorative, while the other is functional. It also has two buttons, placed symmetrically on the outside of the torso, supposed to allow a jacket to be closed in both directions. To reinforce the closure, an interior button is usually attached to the lining, always on both sides. Finally, the double-breasted jacket most of the time has a pointed lapel.

Logically, regardless of the context in which you want to wear it, the double-breasted jacket does not suit every figure. First of all, it has wide cuffs which will give a widening effect on the neck. At first glance, it is therefore not recommended for those with a wide neck. Secondly, it has two columns of buttons and closes in a crossed position, i.e. one side of the jacket will slip under the other, creating a line crossing the upper body on both sides. other. Because of this, it tends to visually enlarge the bust. Thus, it does not seem suitable for people of small sizes for whom we generally try to give an impression of height rather than width, ditto for people with a strong build for whom it is preferable to refine the silhouette.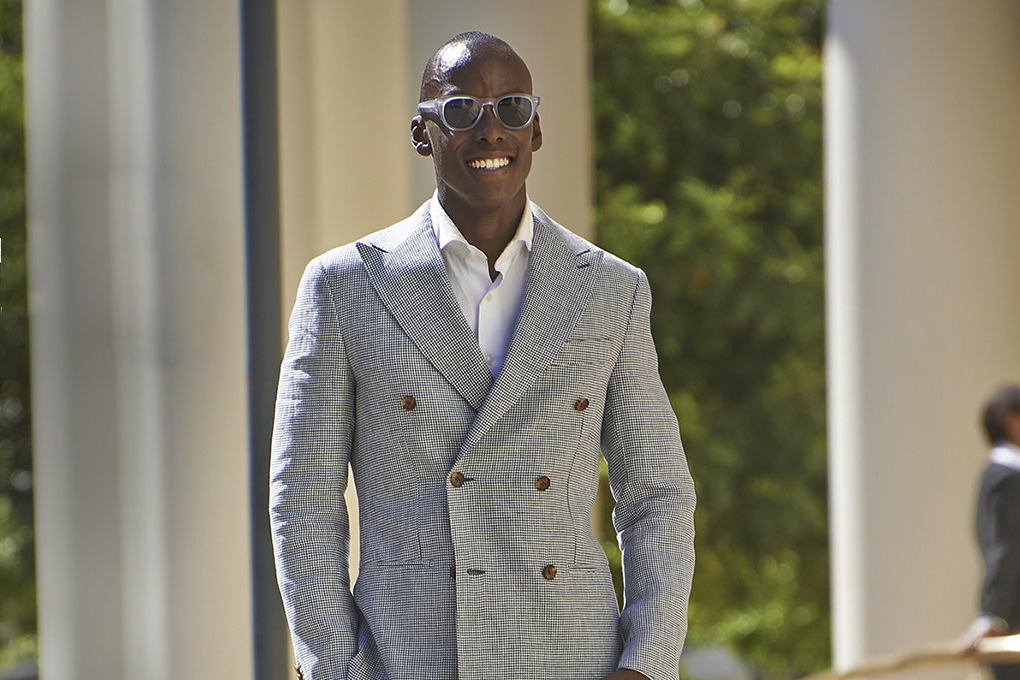 Suit Supply Spring-Summer 2014
If we may have seemed pessimistic , the variations around this type of jacket allow us to say that it can be adapted to everyone, especially by playing with the cut and the buttons. In fact, double-breasted jackets are either provided with 6, 4 or 2 buttons (except designer eccentricities) and can be attached to various places depending on the model, thus creating different visual effects. The most classic system is the "6 on 2", it offers the possibility of attaching the four bottom buttons for example, while the 6 on 1 allows only one to be attached, generally the bottom one. which lengthens the silhouette. Finally, there are also the "4 on 1", "4 on 2" and "2 on 1" systems that are generally found on casual-looking jackets.
In the end, never dare the devil because it is a difficult piece to master. If you are feeling cramped, uncomfortable, and the jacket is puckering all over the place, then it's not fitting. It is best to trust your eyes, or those of your companion to ensure that the visual effect is not too offensive.
The double-breasted suit
The double-breasted suit was once considered the standard of the formal, between the 30s and 50s which remain in common memories as a period during which the man was elegant by definition. It is particularly in this perspective that today's double-breasted suits are reinterpreted. They are therefore considered to be very elegant. Usually it is found in 6 or 4 button versions, and it is NEVER worn with a waistcoat. It is easy to find it in several different patterns (striped and checked). If we take this option, we will try to combine it with a plain shirt and tie, because the suit will then be quite impressive.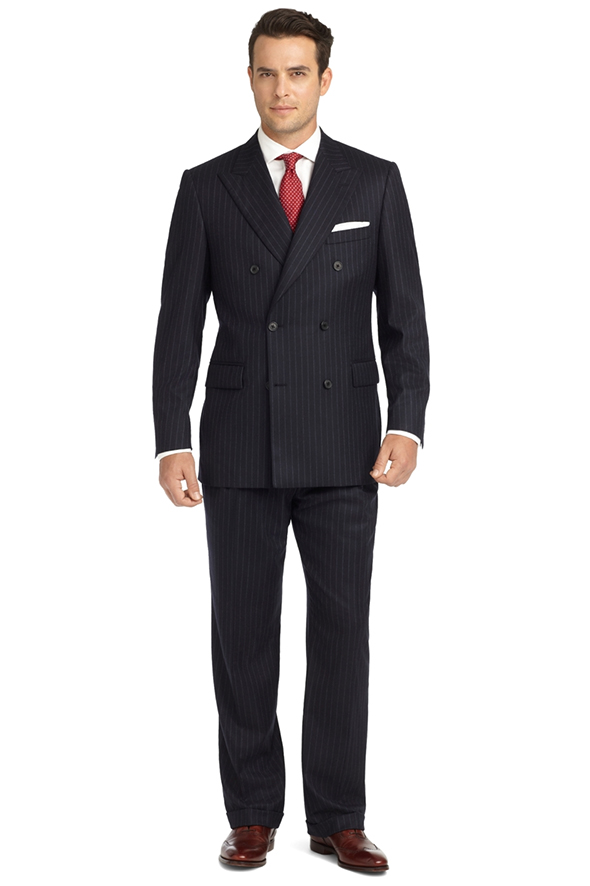 Brooks Brothers Spring-Summer 2014
Regarding the pants, the best is to opt for a straight cut, because a double-breasted jacket is imposing, trousers that are too tight would then create too much imbalance in the silhouette. Can we wear it to work? There is no contraindication to wearing this type of suit to go to the office or for any formal occasion, it is a classic after all. Regarding the feet, purists love to wear this type of costume with shoes with buckles, if you don't like it aesthetically, settle for oxfords.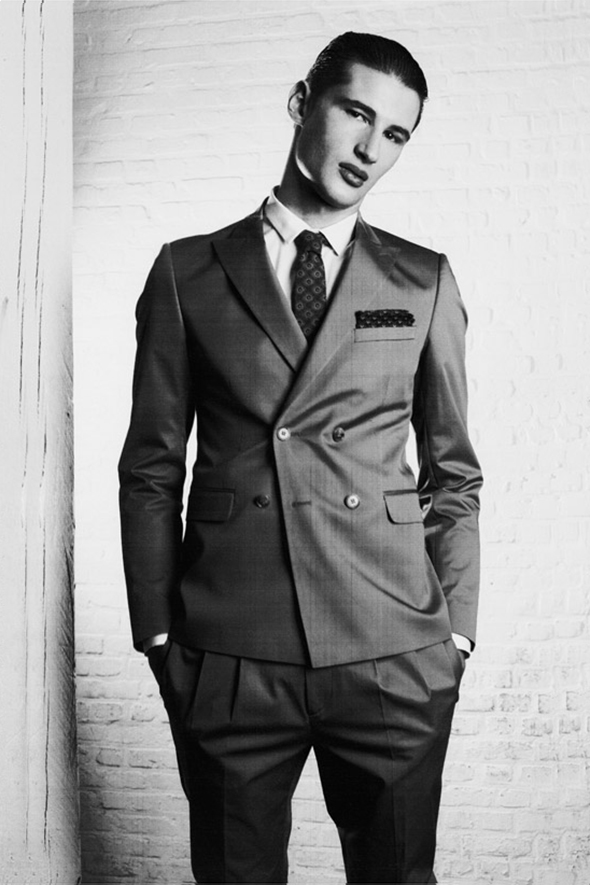 The Suits Spring-Summer 2014
Be careful, because the double-breasted costume is really a jerk! There is nothing worse than a jacket without an outfit, and you can immediately see if it does not fit its wearer. Because the pressure points at the level of the buttons are really very marked and at the level of the belly which quickly gives rise to more than unsightly folds. The ready-to-wear models are becoming rare, the temptation will be great and it will be necessary to refrain from acquiring a piece which will certainly be pretty but which will not suit. Otherwise, the best is to turn to tailor-made .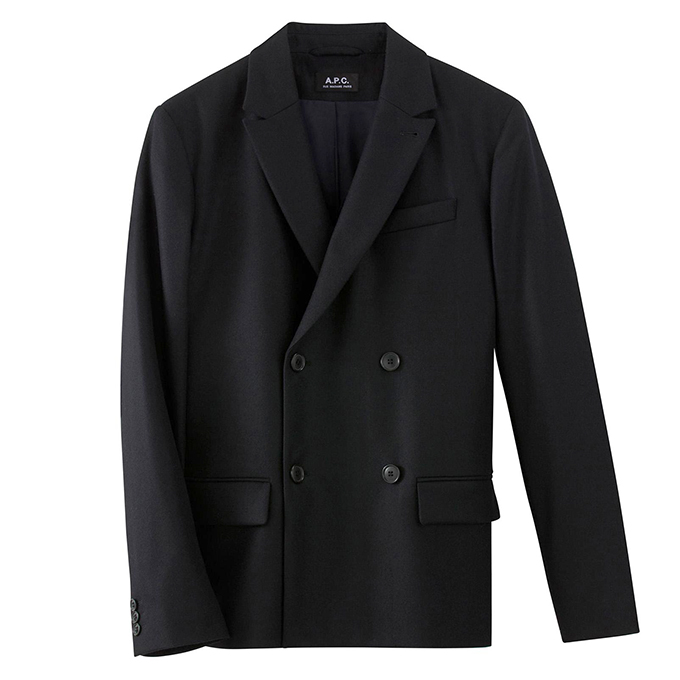 APC
Fall-winter 2014
Double-breasted blazer
The double-breasted blazer is the one you wear mismatched. Like any blazer, it is slightly shorter than the suit jacket and offers versions with more original details. Generally, these are golden buttons, in reference to its marine origins.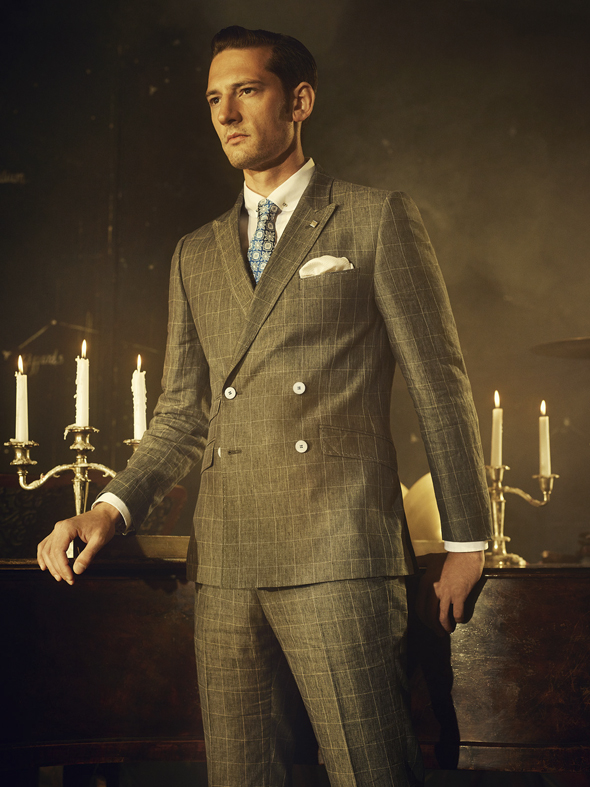 Ted Baker
Spring-Summer 2014
A double breasted blazer is a great choice for men who want to keep a formal touch without necessarily opting for a suit. This type of jacket usually inspires something more formal than a simple blazer, but its cut and wearing it mismatched adds a casual touch.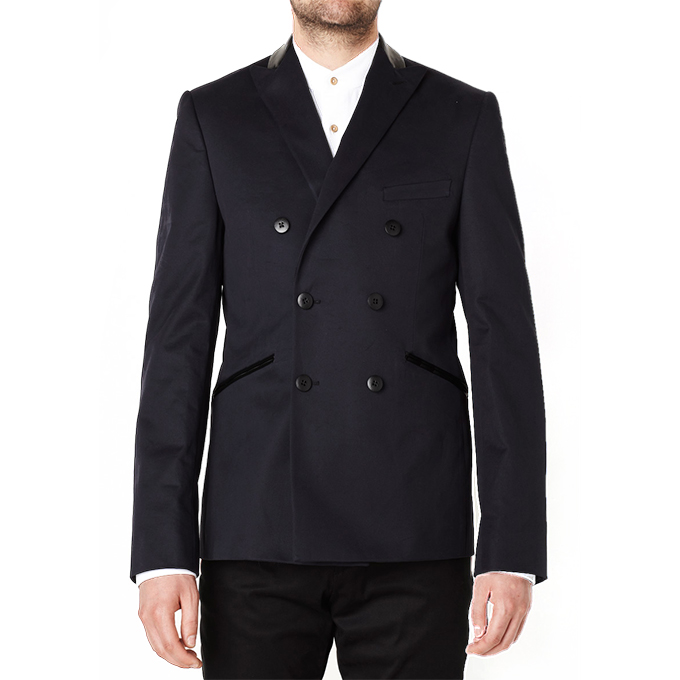 Ultimately, a double breasted blazer is a versatile garment that can be worn in a variety of settings. When paired with dress pants / chinos and a shirt, it can very well be used for a casual business meeting, for example. Otherwise, paired with jeans, a double breasted blazer can add a really stylish touch to someone who doesn't need to go to work in a suit.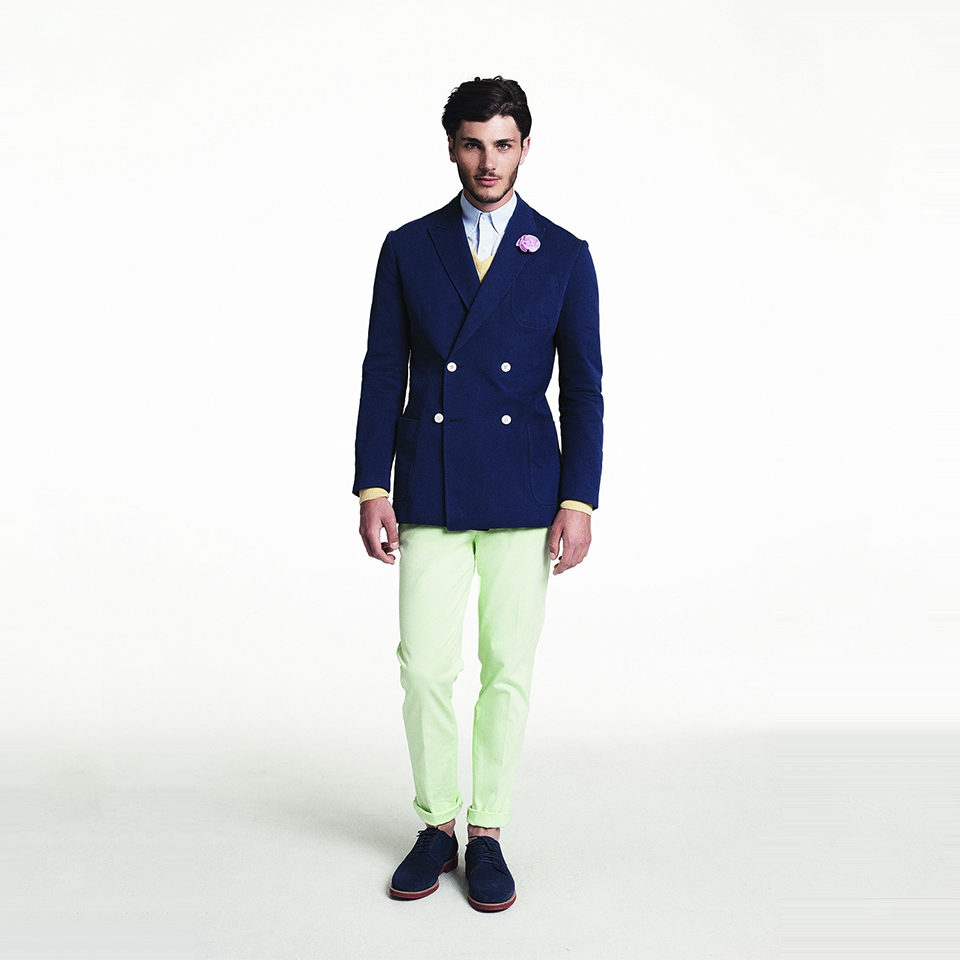 Spring-summer 2014 glove
Today, the trend is clearly to play with the colors of his pants while wearing a pair of gum-soled derby-type shoes, a patterned shirt and a plain double-breasted blazer. It's a modern take on preppy style that can sometimes look ridiculous. We can only advise you to stay measured on the color.
Download our 2020 Groom's Guide to find all our tips , advice and good addresses (this guide is also intended for witnesses and guests):