My sport betting story experience and why 98% of all sports bettors fail to make any money?
My name is Abbey and this is my sport betting story experience and why 98% of all sports bettors fail to make any money.
I have been betting on sports for over 18 years now and only recently in the last 2 years been investing. Now I know some of you are saying to yourself what's the difference? But there is a huge difference and once you finish reading this article you will see why.
My first taste of sports betting started back when I was 16 when the government introduced a sports picking lottery which allowed anyone to pickbetween 3 – 6 teams and you would win based on a pay scale. Some of you are probably familiar with this, but those who are not it's like playing a 3 – 6 game parlay, but with far worse odds then traditional or online bookmakers. Since I live in Canada, my main focus was on hockey at the time as that was the sport that I mainly followed.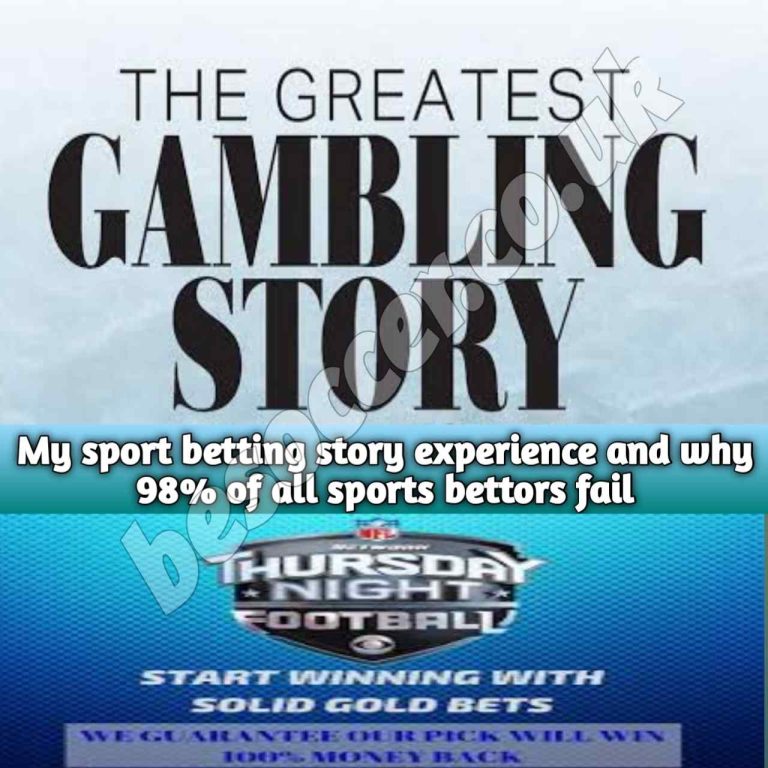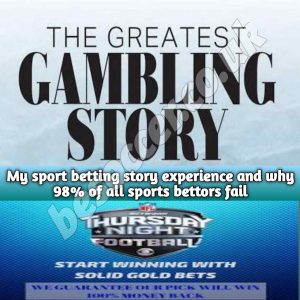 Ironically now, even being from Canada I really don't watch much hockey, but prefer NFL and NCAA football. Go figure! Anyways I enjoyed picking the games and laying out my $2 with a chance to win $10 – $50 depending on the amount of games I chose, but rarely made any money and was an overall loser. I never really took it that seriously and really treated it as a form of entertainment for several years.
Check out more tips:
The 4 best football/soccer free statistics predictions websites in the year 2021
Then one day I was reading the USA today and stumbled upon a small Display ad
in the sports section that read "Guaranteed Thursday Night Football Winner –Side & Total. Call now and get it Absolutely Free". I was like, what is this? Is this possible? A Guaranteed winner? How could they possibly make that claim if it wasn't true? ( I know some of you are laughing at me and I don't blame you, but at the time I was very naïve). I'm sure I'm not the only one : ) Anyways I called them up to take them up on their FREE offer and reached some hotshot sales guy
that asked me some questions to feel me out.
What turned out to be Free was me
sending him $100 to open an account with them and then I ended up depositing
$100 into a sports book online that they recommended to get started. He told me
to call him back on Saturday as they had their "NCAA College Game of the Year". I
called back on Saturday and they gave me the play. I bet $25 of my $100 (Not
recommended to use 25% of your bankroll on one game, but more on that later) and it won. I just remember how happy I was after the game.
I was thinking to myself, I have finally found away to make money and once I billed up my bankroll I can quit my job and do this full time. (Again I can hear you laughing at me). Needless to say I was hooked. I continued to play their picks and guess what? They didn't win them all like I had anticipated. I ended up losing my entire $100. Then the wise guy called me and said that this never really happens and to make another deposit in my sportsbook account and they would provide me picks from their elite private club and I would only pay them after they won. Again I was like … Well they can't make money off
me if they don't win right? Oh Boy was I wrong.
To make my long betting experience story short I tried several other tipping services through out the following years and lost a bunch of money. I remember I had followed one service and had gotten reeled in on their preseason Super Lock and that this was a 30 unit play. At the time I was betting $50 units so I was to bet $1500 on the game. They offered a pay only after it wins option of $150 so I chose that and laid $1000 on this game.
At the time this was the biggest wager I had ever made on any 1 sporting event and needless to say I was very uncomfortable right after I had made it. I remember talking to the guy on the phone who was talking as if it couldn't lose and he actually said " Put a Million on the game, I don't care. It can't lose" Well needless to say, i still lost the game. Some of you may have experienced this before and some may have not, but I don't recommend it. This was an expensive lesson, but I guess one that I had to go through to get to where I am today. From that day forward I was never fooled again about "10 Star Super Locks" or "Game of the Decade" blah blah blah …Bottom line is that any team can win and there are no guarantees. I learned this the hard way so hopefully you won't have to.
So why do 98% of all sports bettors fail to make any money?
Usually it's a combination of several things and all of which I was guilty of doing in
the past:
 Lack of discipline – Have you ever bet on a game because it was on TV?
What about Betting on your favorite team?
Bankroll Management – This is a lock I'm going to bet my full bankroll .. It
can't lose.
Betting with Your Heart – Wagering on a hunch when the numbers are
clearly going the other way.
Not taking the time to do their homework. There is a lot of information
that can be found before making a play. Most people just don't take the
time to properly analyze.
Not selective Enough – Always want action just for the sake of betting.
I'll admit it, I was guilty of all of them. I'm sure you can see yourself in a few of the
examples as well, but the best part is that this can be changed once you stop betting and start investing.