List of top scoring 19 Teams in the UK leagues that we highly recommend backing / stake over 1.5 goals in the year 2021
Below, we have our personal list of top Scoring 19 Teams from the UK leagues that we highly recommend backing over 1.5 goals in the year 2021. Whenever any of these teams are playing a game, it's a simple process of backing or staking 1.5 goals they are all sure odds betting market. We have also included the staking plan we use to make consistent and low risk informed bets.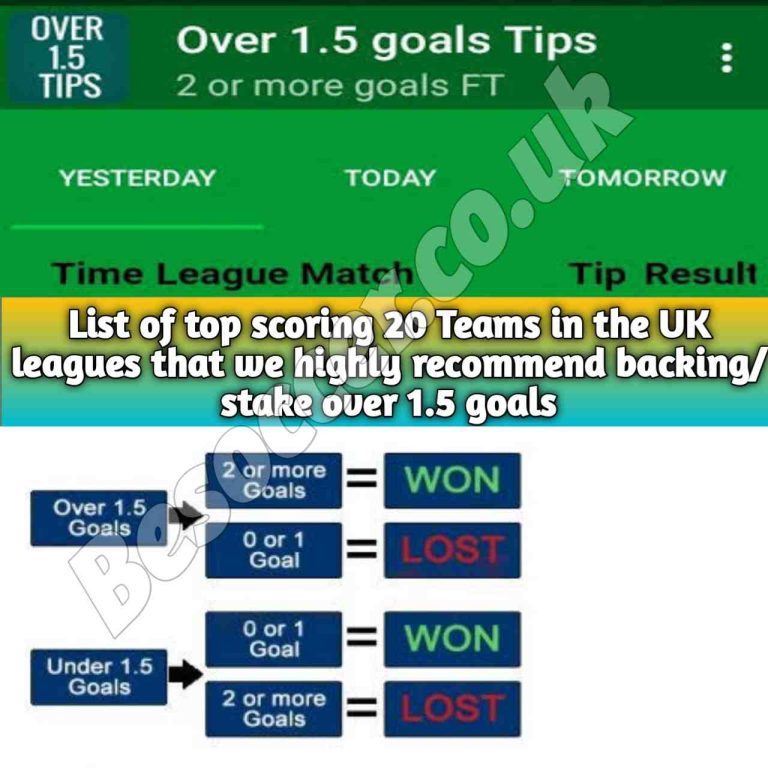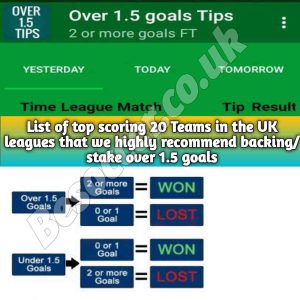 Check out more:

My sport betting story experience and why 98% of all sports bettors fail to make any money?
The 4 best football/soccer free statistics predictions websites in the year 2021
So let's get to it. Now you need that LUCRATIVE list of teams from around the
world. These teams are noted for scoring a lot of goals whenever they play a
game (well, around 85% to 95% of the time).
Arsenal — High Scorer
Chelsea
Everton
Liverpool — High Scorer!
Manchester City — High Scorer!
Manchester United
Blackburn Rovers
Burnley
Derby County
Leicester City
Reading
Watford
Brentford
Bristol City
Leyton Orient
Peterborough United
Preston North End
Rotherham United
Wolverhampton Wanderers
The best Staking Plan to win your over 1.5 goals betting on UK leagues in the year 2021
The best staking plan and strategy to use with this list of teams:
Pick one of the teams when they are playing, go to the over 1.5 goals market, and note the odds for the over 1.5 goals market.
Then take your bank and work out 0.5% of it. This is the profit you want to make from your bet. So if your bank is £250, then you want to make £1.25 from your bet (it's low but also VERY low risk).
Put the odds (decimal odds) and the required profit into the following formula:
Require Profit / (Odds – 1) = Your Stake
Example: £1.25 / (1.37 – 1) = £3.38
IF you win then you have hit your required £1.25 profit!
IF you lose then you add your loss to the original required profit. In this case, you would take £1.25 + £3.38. And then work your new bet out:
Example: £4.63 / (1.33 – 1) = £14.03
Because of the teams we have here, you will rarely go to three or four losses in
a row. Once you win, then you rework out your potential profit… Simple! As
your bank grows so does your profit!